Whatever your property situation and needs, you can receive support from the leading experts at Finefair. We provide the block management Kingston upon Thames relies on as well as many other helpful services.
Check out Kingston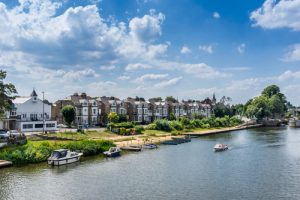 Kingston is a leafy south-west London suburb on the riverside. It is a relatively affordable area with a number of great schools. There are a lot of opportunities to make the most of the outdoors because of the huge amount of green space close by. There is also a busy town centre and some amazing Victorian houses.
The fantastic schools in the area draw in a lot of families and young couples thinking about children. Kingston also attracts a lot of younger commuters as well as recent graduates. They enjoy the convenience, good commuter links to London centre, and busy atmosphere of the former market town.
Here is some information on the average monthly renting costs in Kingston:
1 bedroom flat – £1,199
2 bedroom flat – £1,542
2 bedroom house – £1,664
3 bedroom house – £2,113
4 bedroom house – £3,116
The best streets
For a long time the KT2 address was the most in demand postcode in Kingston. Now though, KT1, an area towards Surbiton, is gaining a lot of traction. This is likely because of its proximity to the station and its fast trains.
Huge amounts of green space
There are plenty of areas to experience the great outdoors in Kingston. This includes Richmond Park as well as Strawberry Hill House and Garden that encircle the town. Other locations that are nearby are Bushy Park and Hampton Court Park. This means that you will never be far from good open space here.
We offer our services throughout London so that we can help landlords and investors with their needs. We are dedicated to exceptional standards of work and customer service, making us the people you can trust.
Learn more about our work like the block management Kingston upon Thames loves through our site. You can also reach out to us if you would like any more information.