Finefair Ltd is a team that landlords can rely on if they invest in blocks. We have the skills and experience to manage these properties to a high standard. At the same time, we can also arrange things like guaranteed rent or council leasing. We work hard to offer block management Harrow landlords and those all over London can rely on.
Tube stations
London has some really vital transport links, including several Tube Lines. Many people choose where to live in the city purely for their proximity to these stations. As a result, prices for homes in many of these locations can get very high.
One thing many people think is that they can save money by moving along the Tube line. In some cases this can happen with homes near stations further away from the centre of London. However, there is no guarantee. In fact, some areas further along a line can be very lucrative because of the amenities in the area.
The Bakerloo Line
Let's look at the Bakerloo Line as an example of a case when it does happen. At one end is Elephant & Castle in Zone 1. This is an area with an average house price that is currently £624,391 according to Land Registry data. That is 0.6% above the London average (£620,697).
Elephant & Castle is a Central area that has been changing dramatically in recent decades. It was once an unpopular location even though it was just across the river from busy Central London. Today though, it is an area that is changing rapidly. There have been lots of new developments and regeneration projects. This work is continuing with plans for a new town centre, more amenities, and several plots of new homes.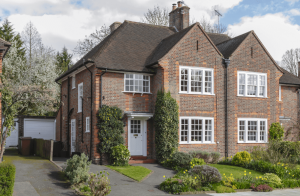 At the other end of the Bakerloo Line is Harrow & Wealdstone. The average house price in the latter is £367,236. In Harrow as a whole it is £462,751. Both represent big savings when you compare to the other end of the line.
Harrow is in Zone 5 so it does cost considerably more to commute on the Tube. However, there are a number of interesting benefits from living further out. For example there is more green space and large homes. On top of that, this is location that is renowned for the quality of its schools. That is another reason for families to consider it.
Plan carefully
Choosing a location is something you should never rush. Think about all the different factors that you need. For example, how long is the commute? How frequently do trains come and go? What kind of amenities are there? Can you find the right kind of home?
Once you have a good idea of what you need and what different areas can offer, you can select the right one for your budget.
Block management in Harrow
At Finefair Ltd we appreciate why so many people would want to choose Harrow & Wealdstone over Elephant & Castle. However, we also know why others prefer living in busy urban areas. It all comes down to personal choice.
Another thing we appreciate is how much investors value a reliable service. We work to provide that all over London, whatever type of home it is. We make managing properties as easy as possible and then offer great services like guaranteed rent.
So, if you need block management, Harrow has nobody better than us. We can handle any kind of blocks, taking care of every aspect of the buildings if necessary. Contact us today to find out more.