Finefair Ltd excels at guaranteeing rents on properties across London. In fact, we have become the top name in almost every Borough. This is because we look to offer the easiest services with zero commission. As a result, we stand out from other guaranteed rent companies Waltham Forest and other parts of the capital can offer.
An exciting plan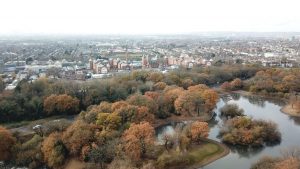 Last month Waltham Forest Council revealed the newest draft of their Local Plan. The document looks at sites across the Borough that could offer the chance to create new homes. According to the info, there could be space for as many as 19,000 new homes. They could be built across the Borough in the next 15 years.
The plan is interesting because the local authority made the effort to try to be as inclusive as possible. Their goal was to involve people in the consultation to see how much scope there would be for developments and what impact they could have. The Council also aims to make the projects as green as possible.
The Local Plan is proposing developments for many sites. They vary in size, from small plots with space for less than a dozen homes to huge pieces of land that could allow thousands of units. Below are some of the biggest ones.
New Spitalfields Market
This is one of the most incredible horticultural markets in Europe. The huge market hall has 115 units for wholesalers who specialise in various types of fruit, vegetables, and flowers. However, there are plans to move to Dagenham in 2026. If the move happens, the council would like to redevelop the 31 acre site. This could create as many as 3,000 new homes.
Leyton Mills Retail Park
The plan says there could be 2,000 or more new homes on this site. More importantly, the aim is to ensure that 35% will be affordable. As well as housing, the development could include building a new school and improvements to the public transport system.
Whipps Cross
The hospital in Leytonstone is planning a rebuild that will reorganise the sprawling site and improve the facilities. As part of this, there could be as many as 1,500 homes built on the site. Construction could begin as early as autumn 2022.
Estate Way
This is a project that has been in the pipeline for quite a while now. An older proposal was to build 440 homes on the industrial site. However, the new Local Plan has increased this number to over 1,400. The work could also replace the waste site and create a new nursery.
Guaranteed rent companies in Waltham Forest
There are a number of companies in London who offer services to guarantee rent. However, Finefair Ltd stands out above the crowd. We work to build partnerships with each client. As part of this we can handle management and choosing schemes with local authorities. In addition, we don't charge any commission. That makes working with us good for your wallet too.
If you want to find out more about us, you can get in touch. We would be happy to talk to you and show why we are one of the top guaranteed rent companies Waltham Forest has. You can agree a scheme with us for as long as you need to.