Finefair Ltd understands why so many people target cool, popular locations in London. They can attract lots of people, creating a good demand for rental properties. It can also push up purchase prices and provide opportunities to buy and improve assets. All of this can result in attractive returns. We can help with this. Our broad range of services ticks every box. We are also known as the top provider of estate management Wandsworth has.
Why is Tooting so cool?
In 2017 Lonely Planet said Tooting was one of the coolest neighbourhoods in the world. This put it alongside some of the most interesting spots on Earth, including Borgo San Frediano in Florence, Sunset Park in New York, and the Triangle in Lisbon. Earlier this year the travel guide specialist also had the area as one of its favourite lesser known locations in major cities.
Tooting has a number of things that make it a really cool place to live. For one it is home to a friendly, multi-cultural community. You can see this in the diversity of the local bars, shops, eateries, and market stalls. The two local markets are excellent, making it easy for locals to find all kinds of high quality produce.
If that wasn't enough, the area is really good for families. It has great schools perfect for children of various ages. Plus there is also easy access to open green spaces at Tooting Commons and Wandsworth Common.
Commuters also have a lot of options if they live here. There are two stations on the Northern Line, offering easy trips into the centre of the city and on to popular spots in North London. In addition there are Thameslink trains. This is also a great spot for people who would rather cycle than take public transport or drive. Cycle Superhighway 7 runs from the area into the City so you can see plenty of people cycling to work.
The property mix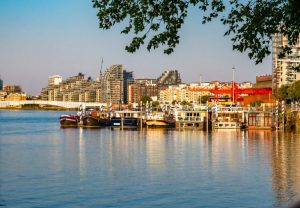 Tooting is also a fantastic spot because of the housing mix. There are lots of great family homes, including huge double front Victorian and Edwardian villas and rows of terraces. New build apartments are also abundant in the area. This includes many new developments including St George's Gardens, Wimbledon Grounds, and the Switch. Springfield Place is also an interesting development with apartments and houses.
While the area is popular, it is also still quite affordable. First time buyers can get on the property ladder for as little as £300,000. Many new builds also allow Help to Buy and can offer many incentives. People looking to move up the ladder or invest in a fixer upper can find three bed homes for around the £700,000 mark.
The prices in Tooting are even more impressive when you compare to other locations in Wandsworth. They are more affordable than places like Clapham and Balham.
Rely on us for estate management in Wandsworth
Whether it is cool Tooting or other parts of the Borough, we have the skills to manage assets all over Wandsworth. Clients can rely on Finefair Ltd to take care of everything, including managing properties and maintenance. We can even provide guaranteed rent if you have any concerns about voids or missing out on income.
So, if you are thinking of investing or want to put your properties in the right hands, contact us. We will showcase how we are the top name for estate management Wandsworth has. You can work with us to get the most from your assets.