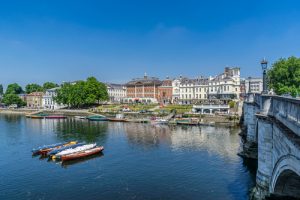 The fact that every investor and landlords has their own ideas on how to look after their properties makes our job very interesting. As a result, no two cases are the same. This also allows us to expand our skills. We can come up with unique, effective solutions for each individual. Because we have been so successful, we are the number one company working in estate management Richmond upon Thames has.
Teddington is one of the best parts of this borough. It is a pleasant and green area that is full of excellent commuter links and Victorian streets. This is the perfect in-betweener possibility for those families who want to move away from Central London.
It is true that the houses in Teddington are expensive. However, they do provide superior value than the more popular outer west London riverside enclaves. Meanwhile, the transformation of the exemplary film studios into flats is creating more luxury homes here.
Who is likely to buy in Teddington?
The standard buyer in the area would be a young couple. It is likely that they would have children. They usually come for the schools and great facilities. Many of them come from the pricier parts of southwest London. Examples include Fulham, Battersea, Clapham, and Chiswick. All the schools, parks, and the river make it a far more child-friendly setting.
Development
Teddington's building booms occurred in the Edwardian and Victorian eras. Most of the houses built during these times were terraces. Many of the larger structures were demolished and smaller blocks are now in their place. However, it is still possible to find the odd street of attractive big Victorian villas.
At Finefair, we make things as easy for our clients as possible. For instance, with us, you are able to get all the services you require in a single place. This makes us the go to company for estate management Richmond upon Thames landlords and investors love.
To find out what we can do for you, all you need to do is call us. We hope to hear from you soon.