Finefair Ltd supports landlords to ensure they don't need to worry about losing out on rental income if they don't have tenants. We achieve this by offering rent guarantees. They ensure our clients get a set payment on the same date every month for as long as the scheme lasts. The assurances we offer and quality of our service make us a popular partner for investors across London and beyond. It also makes us the best provider of guaranteed rent Croydon and all other boroughs have to offer.
New research into commuting
There are plenty of good spots in and around London for commuters. Many people choose to live in these locations to avoid the high costs of living centrally. There are also a number of other benefits too, including the opportunity to live close to more open space and amenities. Several commuter hotspots have grown over the years, giving people lots of choice.
A recent study took a closer look at the link between the number of stations in a Borough and the rental price. The goal was to find which location was the best in terms of the rental cost per station. There are some really interesting findings.
The best finding is that Croydon is the top spot when you work out the rental cost per station. There are 42 stations here in total. This is more than any other area and far ahead of the average of 19. At the same time the area has one of the lowest averages for monthly rent at £1,136. This works at a fantastic £27 per station. Again this is far better than the average (£87).
To put the results for Croydon into perspective, the highest rental cost per station of any London Borough was Harrow at £281. This will be quite surprising for some people because it is not a prime Central location. However, it only has 5 stations so the lack of connectivity drives the price per station up.
The second highest rental cost per station is in Kensington and Chelsea. Here there are an impressive 12 stations. However, the average rent is one of the highest in the capital at £3,053 per month. This means an average per station of £254.
As you can see, these figures show why Croydon is such a good area for commuters. This knowledge and the affordable prices should also put it on the radar for investors. If you are looking to invest, remember Finefair Ltd provides the best guaranteed rent Croydon can offer.
Accessibility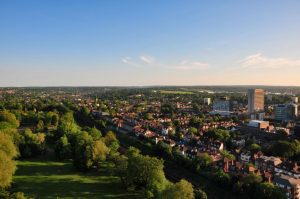 Another thing commuters need to consider is how accessible rail and tram services are. Transport for London has the PTAL score to calculate this. They look at things like walking distance to stations, frequency of services, and density to see which locations have the best accessibility.
Not surprisingly the highest PTAL scores are in central locations that have very frequent services. The City of London is the top scorer here with a score of over 90. This is incredible when you think that Westminster in second place only had 39.75.
Commuters looking outside Central London will want a location that still has a relatively good PTAL score. Croydon is a great option here with a score of 6.76. This places it in the top 20 and no area above it has a cheaper average monthly rent.
Guaranteed rent in Croydon
Finefair Ltd appreciates why so many people love Croydon. It has a lot to offer and is the perfect spot for all kinds of commuters, especially those who need to travel into Central London and Canary Wharf.
If you are an investor with properties in this part of London, our service would be very useful to you. Why not contact us and find out how we offer the guaranteed rent Croydon clients love? We are confident you will see why working with us is a great opportunity.