When they want to make successful investments, many landlords and investors come to us. They do so because we are the best in the business when it comes to exploring the investment properties Kingston upon Thames has. We can aid them in finding buildings of varying sizes, from flats to large family homes and blocks. Whatever their specific needs, we will make sure they are not disappointed.
If you are currently looking to upsize in London, then now is a perfect time to make your next move. Better still, you can combine your search for a new family home with one or two day trips to explore different areas. It is a good idea to look at some of the further flung locales. These are the ones offering great value bigger houses near green spaces and excellent schools.
One place you will definitely want to add to your list is Surbiton in the Royal Borough of Kingston upon Thames.
Quick travel and decent properties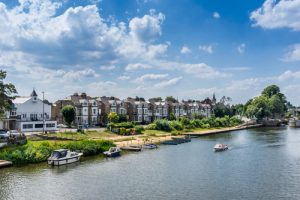 Surbiton is way out in Zone 6. However, the train links here are fantastic. There are quick services to Waterloo that take a mere 20 minutes. Because of its far-flung location, prices tend to be lower and appeal to upsizers.
South-west Londoners have the option of swapping their flats and trading up to a Victorian cottage in Surbiton. They can do this for around £500,000. Some may be after a larger property. If so, they can acquire a semi-detached Thirties home for between £800,000 and £1.2million.
Great schools
For the family market in particular, Surbiton's schools are nothing short of outstanding. St Andrew's and St Mark's CofE junior school have top Ofsted marks. Then there is Tiffin School, which lies in Kingston. This selective institution is one of the country's most distinguished senior schools. There aren't any sink schools for families to avoid either.
At Finefair, we maintain the highest standards with our services. Thanks to our commitment and years of experience, you can rely on us for a lot of different things. This includes property search, managing them, and more. We are proud to offer some of the most comprehensive services surrounding the investment properties Kingston upon Thames has to offer.
If you would like to work with us, feel free to get in touch. We look forward to hearing from you.