At Finefair we know how much value open space can add to a property. It is one of the things people want most from a home, whether they buy or rent. As the top guaranteed rent company Kensington has, we are proud to say we manage a lot of properties in parts of Central London that benefit from green space.
Greenest central areas
When most people think of London they will imagine the busiest parts of the city centre. However, there are plenty of areas that are much greener than you expect. For example there are post codes in Central London that can offer green open spaces like parks, commons, and playing fields. Some of the most impressive neighbourhoods have garden squares. Then there are also things like golf courses and other open spaces.
Mayfair and St James's
According to data from a leading real estate advisory, this part of London has three post codes that have a high amount of free space. The top spot is W1K. An impressive 36.5% of the area here is open space. Two other notable locations, SW1Y and SW1A also have a large amount of open space. Both have 28.6%.
Knightsbridge and Belgravia
Two other Central London areas with an impressive amount of open space are the SW1X and SW1W post codes. Here the amount of green spaces is 35.8% and 32.6% respectively.
South Kensington
Another notable location for open space is SW7 in South Kensington. This is a very popular prime market with plenty of great amenities to offer. Plus, with 22.5% of the area being open space, it is great for people who like greenery.
Premiums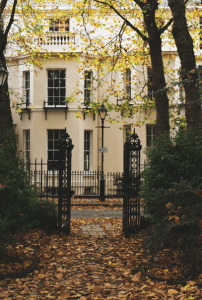 While these areas exist, the fact there is green space and they are Central means they can all come at a premium. The greenest area, W1K, also has the highest property values. The average price here is an incredible £2,039,297. South Kensington homes have a premium too. Here the average price is £1,972,690. The other post codes all have averages over £1.2million.
With this in mind, it is a good idea to consider the values and amount of open space that is on offer. You should look closely at areas to see exactly what you want. It is especially wise if you are buying an asset you plan to let. You could potentially earn a premium on the rent by offering a quality property in a Central area with lots of open space. They tend to be rarer after all.
Talk to the best guaranteed rent company in Kensington
Finefair Ltd is a business with a unique understanding of how much property values can vary in London. We manage assets in all kinds of areas, from affordable suburbs to busy city centre spots. In each case we work hard to offer the best level of service. This can help to preserve the value of the property.
We are particularly well known as the top guaranteed rent company Kensington can offer. Our ability to work with local authorities means we can help clients to get reliable guarantees on their rent. They can do this with very little work on their end and no costs.
So, if you have assets and want to guarantee the rent, speak to us. We can ensure you never miss a payment, even if a property is empty.