Finefair Ltd works hard to be one of the UK's leading figures in the real estate industry. We provide a wide array of services to offer clients as much help as possible. The team we have is the best one working in estate management Camden has but can offer solutions for other areas too. In fact, we can cover all of London.
It is not an exaggeration to state that Camden stands as one of London's most exciting and vibrant boroughs. There are also plenty of exciting opportunities available for investors here. Once you know what is going on in the area, you will likely want to jump right in and start investing.
What is in Camden?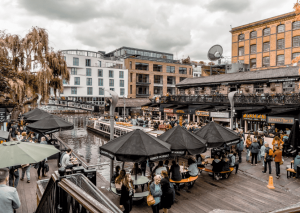 This is an inner London borough. The individual areas include Bloomsbury, King's Cross, Somers Town, and Belsize Park. There is also Gospel Oak, Chalk Farm, Kentish Town, Hampstead, and West Hampstead. All of that is in addition to Camden Town.
Camden is a hotspot for contemporary services industries, which provide many well-paid positions. Because of this, there are numerous affluent tenants and buyers. The employers in the borough include digital, tech, media, law, and finance. Each one helps to increase the demand for buy to let properties here. Please let us know if you require assistance from the best company for estate management Camden has.
Another noteworthy fact about the area is that there are multiple world-class universities and hospitals here. Therefore, there is a demand from university and hospital staff, and students for properties. The Royal Free Hospital, Great Ormond Street Hospital, and University College Hospital are among Camden's leading hospitals.
As for the academic side, Camden is home to University College London and the University of London. They teach thousands of students from more than 150 countries across the world. The Royal College of Dramatic Art and Central Saint Martins College of Art and Design are also here.
Regeneration and developments
A lot has changed in Camden in recent history. This has made it an even more popular living and working borough. For example, there is the King's Cross Central Scheme. It has been described as one of London's most exciting and biggest redevelopments. It covers a 67-acre site that is near St. Pancras. What was an industrial locale is now transforming into a brand new city district. It will have schools, a university campus, restaurants, bars, offices, galleries, shops, and homes.
There are also plenty of tourist attractions in the borough. This has led to a demand for short-term accommodation. Some of the more famous sites include Camden Market, the Roundhouse, Regents Canal, the BT Tower, and London Zoo. The area is a hotspot for food, art, fashion, and music.
Estate management in Camden for any need
At Finefair Ltd we help customers to find the right properties in London's boroughs. Whatever it is you are looking for, we will be able to aid you in finding it. Not to mention, we will provide you with unforgettable management services. This can even include options to improve the yield from your portfolio.
So, if you wish to work with the finest company working in Estate Management Camden has, please contact us. We can tell you more about how our services work and what we do to give you the maximum value.