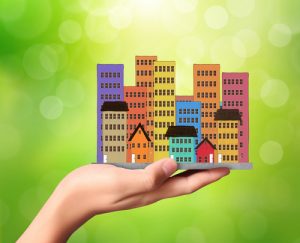 Finefair understands that every landlord wants something different for their portfolio. We adapt our service to reflect this. Whether it is taking care of finding tenants, guaranteeing rent or property management, we can offer a solution. This makes us the lettings agent Brent clients can always trust in.
Alperton will soon be the location of the tallest building in Brent. Minavil House will be 26 storeys when it is complete. The homes will offer great views across London, including some with a view of nearby Wembley Stadium.
New homes
The new high rise will replace a two storey commercial building. When complete it will have a value of £107million. It will create a total of 251 homes. More specifically there are set to be 32 three bed flats, 136 two bed, and 83 one bed.
All of the homes will be affordable. An impressive 215 will be shared ownership to give people more opportunities to get on the property ladder. The other 36 will be for rent with the rates at the London affordable rate. Clarion Housing Group is behind the project.
Other new amenities
In addition to the homes, the redevelopment will provide more new things for the area. Firstly there will be a new Lidl supermarket, giving locals another new place to shop. Secondly there will be a cafe beside the canal. Finally, there will be some creative workspace to attract local businesses.
Minavil House got planning permission in January after the local planning committee accepted the proposal. Incredibly this was three years after original plans were submitted.
The new homes will be fantastic for the area and could prove to be very popular. New residents will have plenty of amenities nearby, including lots of shops and Alperton Tube Station. On the Piccadilly Line commuters can easily reach the West End and Central London.
If you are a landlord with properties in Alperton or anywhere else in Brent you should take a look at our services. We can offer lots of value and make managing them very easy.
You can contact us to work with the best lettings agent Brent has. We are happy to arrange a consultation to discuss everything we can do for you.