One of the most impressive things about London is just how diverse it is. There are locations to suit any taste, whether you want to be in a busy city centre or a leafy town. Plus, there are also lots of areas with excellent transport links and other amenities. Finefair Ltd can help clients to invest all over the capital. In fact, we have a reputation for offering services that are as broad as the city. This makes us the top partner if you are looking at property investment in Bromley or other areas.
Chislehurst
There are lots of great locations in Bromley but the village feel of Chislehurst is very hard to beat. For many people this is the very best part of London to put down roots. Let's take a closer look at everything it has to offer. It will show why this could be the area for your ideal investment property.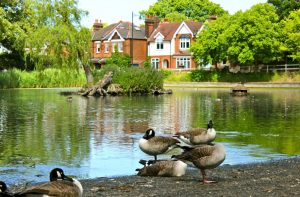 The first thing people tend to notice about the town is just how leafy it is. It is an idyllic suburban spot with attractive green spaces like Hawkwood Estate and Scadbury Park. The latter is now a popular nature reserve. Plus, if you travel a little further south you are out into the Kent countryside proper.
While there is no doubt this is a suburban spot, travelling into Central London is relatively easy. The town is around ten miles away from Charing Cross. There is a local train station with regular services into the city centre. The trip can take around 30 minutes. On top of this there is easy access to the M20 and M25 for drivers.
The housing
One of the things that make this one of the best choices for property investment in Bromley is the mix of options. There is quite an array of properties, from modern flats and period conversions to Victorian and Edwardian terraces. There are even some beautiful cottages and large exclusive mansions.
What is really interesting is that the area is still quite affordable, even though it has good popularity. The average house price is below the £500,000 mark. However, at £488,216 with a healthy increase over the last 12 months, it may not remain like this for long.
Things to love about the area
As we already said, Chislehurst is a great spot for people who want to put down roots. Families in particular will find a lot to love, including the greenery. There are lots of great local schools too, including state, grammar, and private schools.
When you think about suburban settings most people will imagine a lack of amenities. However, Chislehurst has a lot to offer. There are two high streets, celebrating independent shops and fashion boutiques as well as chain restaurants. The area also has some wonderful pubs.
Sport lovers will find all kinds of things to do in the area too. There is a golf course at the wonderful Camden Place, a cricket club, a tennis club, and swimming pools. This is all on top of the huge amount of open space.
Let us help you with property investment in Bromley
Finefair Ltd appreciates all the great reasons to invest in Chislehurst and Bromley as a whole. There is good rental demand here, especially for larger family homes. Young professionals and families tend to rent here before they take their steps on to the property ladder.
If you are thinking about investment property in Bromley, we would love to help. Our team can offer letting solutions, portfolio management, guaranteed rent, and more. We aim to deliver the best returns, so contact us to discuss your needs.