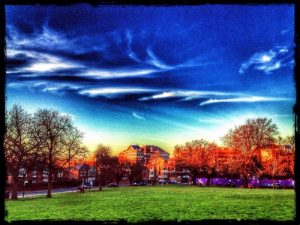 Wonderful amenities can have a big impact on an area. In fact they are one of the main things that attract people. At Finefair we know about the wonderful options all across London. As a result we can spot the best assets for our clients. This includes the most attractive investment properties Harrow has.
There are plenty of noteworthy amenities in Harrow. Safari Cinema is very unique though. It is a specialist Bollywood cinema, showcasing the biggest blockbusters from India. The movies change regularly so there is always something great to see.
A wonderful building
While the movies are great, the building itself is also noteworthy. Under the drab blue cladding is a wonderful Art Deco facade. This is part of the original building from when it opened in 1936. Sadly it has been behind the cladding and hidden from view since the 1960s.
The cinema, originally the Dominion, was designed by Frank Ernest Bromige. It is one of a number of buildings by the architect. The most famous is the Grosvenor, in Rayners Lane.
If you had a good look at the original building you could get an idea what is hiding behind the cladding. For example there are decorative metal frame windows and concrete towers. The idea for the design was to create something arty and attractive that would draw people in.
Sadly tastes changed and the exterior was no longer popular. It was also expensive for the owners to maintain. That meant they made the decision to cover it with cladding.
Redevelopment
Recently the Safari Cinema has proven to be one of the most interesting investment properties Harrow has. The new owner is seeking planning permission to redevelop the building. This would reveal the classic facade for the first time in over 50 years. The project would improve the cinema and also add new facilities, including a cafe.
As part of the redevelopment there would also be new housing on the site. This would come in an 11 storey block. In total there would be 78 new flats.
If the project gets approval it will improve the cinema and add new amenities. It would also create more housing in part of London where lots of people want to get on the property ladder.
The best way to manage investment properties in Harrow
At Finefair we work to offer consistently high quality services for our clients. We can manage any portfolio, making us the best people to look after the investment properties Harrow has. Speak to us today if you want to find out more. We can even offer guaranteed rent to protect your income and maintenance to ensure homes stay in a great condition.