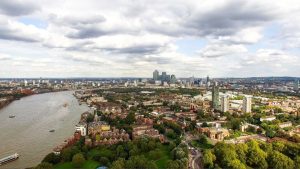 Finefair Ltd has the pleasure to work with many landlords and investors. Our team does this to help each client find the most suitable properties and arrange great services for them. In fact, we are one of the top performing specialists in property investment Southwark has. We have experience working with all sorts of properties. In addition, we always commit to achieving the highest standards.
British Land, the property developer, recently submitted plans to Southwark Council. They detail the construction of new offices in the structure housing London's Printworks nightclub. The application is part of the Canada Water Masterplan. For those that don't know, this is a £4billion, 53-acre regeneration project in the borough. British Land are planning it in conjunction with the local community and Southwark Council.
The history of the site
What was once the printing press building called Harmsworth Quays was bought by British Land back in 2012. They then got permission for Broadwick Live to use the building. This is an events management company. It became the Printworks London, a 6,000 capacity venue that opened its doors in January of 2017. Since then, it has become one of the capital's most popular clubs. The design is a celebration of the industrial location but has spectacular lighting. It became a big spot for heavyweight DJ bookings.
Now, British Land has submitted what is called a Reserved Matters Application (RMA) to the council. This is for a sustainable development of the structure that will create new offices and more. There is also a second RMA to construct a new road – Printworks Street. The plan is to build it along the top of the site.
The proposals
This sustainable office development in Zone H includes several things. There will be ground floor retail and new landscaping. Additionally, it shall include the creation of new routes on the site. The plans shall celebrate the industrial and raw character of the current structure. At the same time, it is going to bring its appearance up to a contemporary standard.
Broadwick Live and British Land have said that discussions about carrying on working in a partnership and preserving the future of Printworks London are continuing. The former said that Canada Water's regeneration consists of the evolution of Printworks London. They also said it is essential to the plans for a wonderful development.
Help with property investment in Southwark
At Finefair Ltd, we have managed to help our clients with all sorts of property matters through the years. Our goal is to help them address any challenges they have and enjoy stable incomes.
Being the top company working in property development Southwark has is only one part of our job. In addition, we specialise in the likes of guaranteed rent, portfolio services, HMO's and more. So, if there is anything we can assist you with, please don't hesitate to contact us.