There are a number of reasons why so many people are looking at the investment properties Wandsworth has to offer. There is a lot to love in the area, including a reputation for low council tax and lots of open space. In addition the Borough has plenty of attractive riverside properties, something that appeals to most buyers.
Redevelopment
The newest part of Wandsworth is Ram Quarter. This award winning project is already proving to be very popular with buyers. It has given the area several of the things it was missing, including a central promenade that feels like a new town centre for the area. In addition there are new shops, restaurants, a nursery, and even a museum. At the centre of the redevelopment are 713 new homes.
Opening up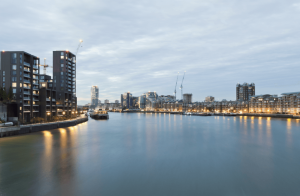 Until the redevelopment this part of Wandsworth was completely closed off. The site was a Young's Brewery at one time and had high walls enclosing its eight acres. The roads around the site were equally as unwelcoming.
The transformation from closed site to open, welcoming, family friendly destination is night and day. Now there are new and regenerated buildings with new homes and amenities. Almost half of the site is now open public space, including a market square and gardens.
Properties
Ram Quarter has homes that will appeal to lots of different groups. For starters there are studios and one bed apartments perfect for buyers who want their own home. Couples can find larger apartments with 2-3 bedrooms. The bigger of these are also good for young families. There are also larger 4 bed homes and 3-4 bed duplexes.
The investment properties Wandsworth has draw people from a wide array of different backgrounds. The close proximity to the centre of the City appeals to anyone who works there. This is also a great location for people in the digital and creative industries.
Many of the homes also offer wonderful amenities for residents. This includes concierge services, car parking, bicycle storage, and excellent security. Whether they are in the listed brewery building or one of the new builds, each home is finished to a high standard. As a result they have quality fittings and modern kitchens.
Managing investment properties in Wandsworth
Lots of people moving to the Ram Quarter will be looking to buy their own home. Others will be thinking about assets they can buy and then find tenants for. We work with these people, helping them find properties that satisfy their needs. We then offer a range of useful services including property management and guaranteed rent.
If you would like our help feel free to get in touch with us. We can give you advice and help you choose the right service for you.