If you are betting on property in London in 2020 you will want to find the areas with the best potential. There are lots of options, from prime City centre locations to outer Boroughs. When it comes to investment property Richmond upon Thames really stands out though. It is a very pretty area with lots of great amenities. As a result it is very popular with buyers and renters.
A happy Borough
One of the things that make this area stand out is that people who live here are generally very happy. In fact Richmond upon Thames took the top spot in a survey of the happiest Boroughs in London at the end of 2019. Locals love the views of the Thames and the huge amount of open space. There are lots of great boutique shops, pubs and bars to enjoy as well. Overall there is a great community feel that makes people want to put down roots here.
Richmond Hill
This is by far one of the best spots in the whole Borough. It is a wonderful open space with some of the best views in the whole of the UK. In fact it is so pretty that there is Parliamentary legislation to protect it. You can see deer and lots of other wildlife in the conservation area. On top of this there are historic trees and rolling meadows.
Eco Friendly
With so much open space and effort towards conservation, it is no surprise that Richmond upon Thames is a very eco friendly Borough. In fact it took the sixth place on a list of the top ten best areas for wellbeing in London. There are plenty of places to enjoy a walk through nature and you can also take part in lots of sports nearby. Richmond is the home of rugby in England. There are also clubs for everything from sailing to golf.
Investment property in Richmond upon Thames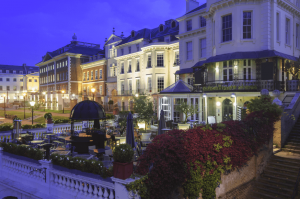 One thing you need to keep in mind is that all the good things in the area push the house price up. Luckily the high demand also means that the market is quite stable. While prime markets are falling backwards lots of people still want to live in Richmond and keep the values up.
There are also really good opportunities for landlords. The high house prices make it tricky for some people to get on the property ladder in the area. As a result there is demand for rental properties. The fact that people love living here means you could find tenants who want to stay for the long term. If not, you should have no shortage of interested parties to take over the tenancy.
Work with Finefair
If you are drawn to the investment property Richmond upon Thames has, why not work with us? We can ensure you get a great service, whether you need a little bit of help or comprehensive support. Our team know how to manage portfolios and we can arrange all maintenance. We even offer guaranteed rent so your income is secure.
You can contact us to learn more about our services. We are ready to answer any questions and can explain exactly why so many people love working with us.