When it comes to property, every investor has their own ideas of what success is. It is our job to help clients to achieve their goals. No matter how small or large the portfolio is, we will be able to assist in getting the best returns. This is why we are the top team for property management Wandsworth has.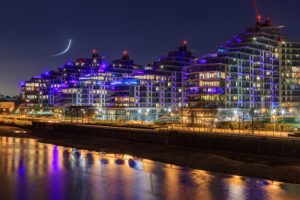 Lots of families come to the Southwest borough of Wandsworth. They do so for the sheer amount of larger Edwardian and Victorian houses. However, this is not the sole reason why. There is also a near unbeatable choice of both private and state schools. Furthermore, there are the open green spaces of Wandsworth and Clapham Commons.
Changing the Riverside
The industrial riverside of Wandsworth has almost completely been swept away over the last two decades. In its place are thousands of contemporary riverside flats. The biggest development is Battersea Reach. Here, developer St George has built 1,350 homes between Wandsworth Bridge Road, York Road, and the Thames.
Ram Quarter
There is one final piece in this de-industrialisation jigsaw puzzle; The Ram Quarter. It is the redevelopment of what was once the town centre's Young's brewery site. Chinese developer Greenland was responsible for the project. With phase one complete, a portion of the Wandle River is now open. This is the first time it has happened.
Renting
Many people who move to Wandsworth want to rent. Luckily there are three times more flats for rent than houses. There is good demand though and investors with good properties can enjoy a stable income if they appeal to a family or couple who will stay for several years.
Buy-to-let
The number of new homes is also enticing buy-to-let investors. The Ram Quarter in particular is very popular. For a two-bedroom Victorian cottage off Putney Road, houses rent from £1,475 each month. For a six-bedroom house in the Toast Rack, a renter would have to pay £11,233 every month. These numbers can be a healthy yield for the owner.
At Finefair, we have years of experience with building and expanding property portfolios. No matter how big they get, we can scale our services to ensure we manage them properly.
If you would like to work with the top business excelling in property management Wandsworth has, contact us today. You can also browse our website to find out more about us.