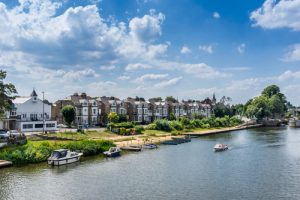 We are a company that has been operating within the property industry for years. Our list of services is extensive and can aid clients with all their requirements. So, if you need any help with property investment Kingston upon Thames has nobody better. We will be here to guide you in several areas, from portfolio management to rent guarantees.
If you want to watch the world float by, then Kingston upon Thames is where you need to be. You may spend your time relaxing at one of the waterside restaurants or bars. On the other hand, you might take a trip to the neighbouring Richmond, Twickenham, or Surbiton. Whatever your choice, you will discover this is an energetic town that has the River Thames at its centre.
History
With strong medieval roots, Kingston is the focal point of one of five royal boroughs in the country. Even its name has its origins in royal heritage. Kinges Tun means a royal estate or farm. Many people believe this is where Saxon Kings were crowned. In the present day though, chances are you will encounter a mix of shoppers, tourists, students, and residents on the streets.
Central Kingston's reputation
The heart of the area has its own wonderful reputation as well. It is something of a shopper's paradise.
First there is the Bentall Centre with around 70 stores. Perhaps the most impressive attraction here however is the structure's splendid architecture. The Bentall's department store is part of the complex and began its life as a respectful drapery shop in 1867. Eventually, it became the business everyone sees today.
There is also the Eden Walk Shopping Centre and various others. So, whether you are on the hunt for treats or gifts, you have a great chance to find what you are after.
Property investment in Kingston upon Thames
At Finefair, we give you plenty of reasons to choose us. For one thing, we have a great history of achieving healthy rents. These are at or above the market rate too. Moreover, we are on call around the clock for repairs. As a result you won't have to worry about finding someone.
If you want to deal with the top company working in property investment Kingston upon Thames has, call us today. We are sure you will love our services and the great returns we can offer.