Finefair has a reputation for offering bespoke services that also deliver great value. This is one of the reasons we are the best provider of property management Barnet has. With our help landlords have assurances that every asset is managed to a high standard.
Britannia House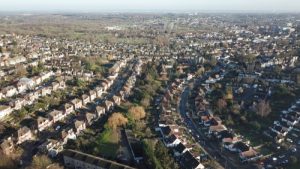 Office conversions are one way developers create more homes in built up areas. This kind of project is very popular in London because demand for housing is very high. Britannia House is one of the latest projects to get approval. The 1960s office building will become 23 new flats; 20% of them will be affordable. They will range in size from one to three bedrooms.
The redevelopment of the building is good news for the area. As part of the project the developer will install new cladding to make the 1960s facade more aesthetically pleasing. Each home will also have a balcony, adding even more new detail to the building. This will also ensure that residents have some outside space.
The building is in a great location in North Finchley. There are some good amenities nearby, including shops and restaurants on High Road, a school, a health centre, and Swan Lane Open Space. Commuters can get on the Northern Line at Totteride & Whetstone or Woodside Park. They can travel to Kings Cross in under 25 mins or continue on into the City. The building will also have 13 car parking spaces and space for 26 bicycles too.
Approval
The planning committee for Barnet Council gave unanimous approval for the redevelopment. To grant approval they require that at least two affordable homes are three bedroom so they appeal to families. They also want the balconies to have opaque glazing to ensure privacy.
Finefair has experience of managing homes in all kinds of buildings. While there may be challenges because of the layout of a building, we have the skills to overcome them. As a result we can offer consistent high quality services.
If clients want the best property management Barnet can provide, we are the team to call on. Or, they can visit our website to find out more.