At Finefair Ltd we ensure our services can adapt to suit the specifics of areas across London. We can handle managing all kinds of properties, from family homes in residential districts to luxury apartments by the riverside. As a result, investors can trust us with any kind of portfolio. This makes us the top name for property management Greenwich has.
If you look at Greenwich today you would have a very hard time imaging what it was like in the past. There may be a number of signs of the heritage and character of the area, but that does not tell the whole story. You need to take a proper look back to get a real idea of the scale of the change.
Post war
Before WWII Greenwich was a largely industrial area. It was home to a number of important industries, including shipbuilding and ammunitions/weaponry. The Royal Arsenal was a vital asset, especially for WWI and WWII. However, that made the area a major target. In the Second World War it was hit heavily during the Blitz.
Post war Greenwich was a very different area to what you see today. The clean up after the war was a huge project. Because of the extent of the damage, it took until well into the 60s to demolish lots of the buildings and start the rebuild in earnest. As a result, for years many parts of the area were rubble and full or properties in various states of ruin. You could walk around and see some structures with only one or two walls standing and all the debris you would expect.
The Greenwich of this time was also an industrial heartland. There were large factories, warehouses, boat builders, coal merchants, gas works, and more. Plus you could find rows of barges along the river. These were essential for transporting goods to and from the area.
Today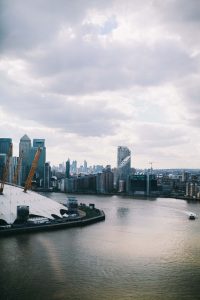 Modern Greenwich is very far from this. Much of the industry is gone and a lot of the river is now lined with modern developments. There are all kinds of luxury apartment blocks with excellent views of the city and beyond. Even Royal Arsenal is now a residential and cultural district.
The modernisation of the area has also brought everything you would expect from a growing residential area. This includes restaurants, bars, and nightlife. Today you will see locals spending their day at the park and enjoying the local amenities rather than working in industries along the river.
First rate property management in Greenwich
Not surprisingly all the changes in Greenwich have made it one of the most popular spots in London. There is a lot to attract buyers and renters, including great transport links and a wealth of amenities like lots of open space and plenty of culture. It is an especially popular area for people who are looking at luxury apartments.
Finefair Ltd offers excellent services for clients who want to buy assets in this part of London. We handle everything for them, including looking for suitable properties. After purchase we can arrange management services and much more. This helps to protect your investments.
So, if you want to start dealing with the top provider of property management Greenwich has, speak to us. There is also a lot of useful information on our website so feel free to browse.