If there is one thing our rent guarantee schemes are, it is popular. Landlords and investors from all over London and around the world flock to our front door in order to do business with us. As the foremost guaranteed rent company Camden has, we work hard to deliver on our promises and put every client in a favourable position.
We will help you navigate the market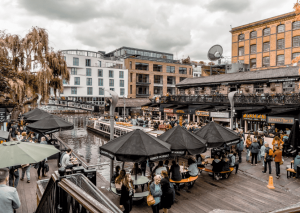 The London property market isn't the easiest thing to navigate. After all, you need to consider a myriad of important details. It is the same for investors and landlords who operate here. You will require the aid of an establishment that has an abundance of knowledge of and experience with this market. As a result, you can remain ahead of everyone else and make the correct choices. We are easily the best guaranteed rent company Camden has, but our knowledge covers the rest of London too.
One thing we pride ourselves on is being an adaptable business that is capable of working with a large variety of clients. We could be assisting someone with social housing at one point. At another, we might encounter a client who owns corporate buildings or private properties. As you can see, there is never a dull moment here.
How we stand out
There is something in particular that makes us stand out from other companies offering guaranteed rent schemes. It is that we have incredibly strong working relationships with the capital's local authorities. We work alongside Camden and every other borough council. If we didn't, our team would not be able to provide the absolute finest level of service. The last thing we want is for a client to be unhappy.
Why you should work with us
There are plenty of other reasons to choose Finefair as your preferred company as well. For example, there is 0% commission with us. As the best guaranteed rent company Camden has, we work to give you superior value for money. Don't expect this to be a terrible service however. We are always reliable and professional.
High rents

It is possible to achieve high rents working with us too. Our stellar history of achieving healthy rent rates for clients that are above or at market rate speaks for itself. Consequently, we are able to help you obtain the greatest returns for your portfolios. If you place your faith in us, you can expect a secure and high guaranteed rent income.
We will handle the repairs too
You never have to worry about finding someone to carry out repairs when working with our company either. We are always on call throughout the day. Our talents in management are the best you can find in London. Not only do we work with the most skilful individuals, but we also keep our eyes on your properties. We will see to it that they stay in top condition.
Talk to the best guaranteed rent company Camden has
Anyone who requires our assistance or simply wants to get in touch with us can do so via a phone call. Our number is 020 8554 0500. If you would prefer to email us, the address is e.info@finefair.com.