London landmark 30 St Mary Axe is up for sale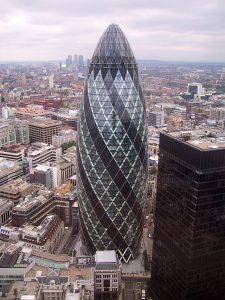 Here's an exciting investment opportunity for anybody who's looking to buy property in London – the Gherkin, one of London's most distinctive landmarks, has been put up for sale after going into receivership earlier this year. Located in the City of London, the eye-catching tower (officially titled 30 St Mary Axe) is expected to command a price in the region of £650 million.
The building, which was designed by Lord Foster and opened a decade ago, boasts 505,000 sq ft of office space, a prime location at the heart of the capital's financial district and stunning views across the city. There are currently about 20 tenants resident in the building and it's also utilised as a wedding venue. The unique structure has gained iconic status over the last ten years and has been featured in numerous films and TV shows as an instantly recognisable signifier of the capital's skyline. Previously owned by Germany's IVG Immobilien and private equity firm Evans Randall, it's expected to attract interest from buyers all over the world and it seems likely that it will be snapped up by an overseas investor. It is anticipated that the Gherkin will be sold by the end of October this year.